Designed for rapid filtration of particulate matter from HPLC solvents.This unit is excellent value.Protect your instrument and column from costly damage by clarifying all your HPLC solvents and buffer solutions before use.This vacuum filter assembly comes with a sample reservoir and receiving flask.A 47mm diameter membrane filter is placed between the fritted-glass support base and the sample reservoir secured in place by an aluminum clamp.The support base itself is connected to the receiving flask by a vacuum-tight ground-glass joint.Only tow-extractable borosilicate glass and the membrane filter come into contact with the mobile phase.The vacuum hose connection is made above the filtration drip tip to prevent contamination from the vacuum line.
Application
Prevents pump and system component damage.
Rapid Filtration of buffers, organics and corrosive liquids.
Removes damaging micro particulates and bacterial contaminants.
HPLC and GC solvent and sample Filtration, 1 to 2L units.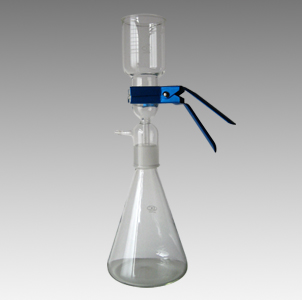 Materials

LB3010

Borosilicate glass funnel, base and cap;anodized aluminum spring clamp; fritted glass filter support.

Filter Diameter(mm)
47
Filtration Area(cm2)
9.6
Funnel Capacity(mL)
Funnel: 300mL; flask: 1L
Outlet Fitting
6mm (1/4 in.) O.D. Glass Hose Connector cap sidearm to vacuum

Dimensions

Height/cm (in)
43
Diameter/cm (in)
Flask: 14; funnel: 7.6
Ordering information
| | | |
| --- | --- | --- |
| Cat No. | Description | Qty. |
| LB3010 | 300mL/1L Filtration Apparatus | SET |
| LB3020 | 500mL/2L Filtration Apparatus | SET |