The latest AccuTemp vacuum ovens come with industrial first technology using five-sided heating pads  covering all internal sides of the chamber.  This results in 25% faster heating. Along with aluminum shelves, temperature uniformity is guaranteed. Adjustable gas back fill capability with needle valve and vent port are standard, while the low proportional gain temperature controller keeps your oven temperature within +/- 1°C accuracy.

The AccuTemp series digital desktop vacuum oven chamber is constructed from easy-to-clean stainless steel and features a large double-layer tempered glass safety window. These ovens can greatly reduce drying time by maintaining a consistent vacuum level within the chamber. Every one of our ovens undergoes thorough 24-hour vacuum leak tests and is stringent quality controls in New Jersey, Nevada or Melbourne before despatch.

Please Note: Before initial use, run oven at 200°C without vacuum for 15 minutes to burn off any residue that may have been introduced during the manufacturing process.
AccuTemp 26L
AccuTemp 54L
AccuTemp 210L
AccuTemp 450L
Electric
220-240V +/-10% 50/60Hz
1-PH 5.5A, 1200 watts
220-240V +/-10% 50/60Hz
1-PH 6.8A, 1500 watts
220-240V +/-10% 50/60Hz
1-PH 13.6A, 3000 watts
Chamber

Size

: 310 x 310 x 280mm


Material

: Stainless steel


Capacity

: 26 litres

Size

: 420 x 370 x 360mm


Material

: Stainless steel


Capacity

: 54 litres

Size

: 560 x 600 x 640 mm


Material

: Stainless steel


Capacity

: 210 litres

Dimensions

: 650 x 760 x 900 mm (WxDxH)


Material

: Stainless steel


Capacity

: 450 litres
Temp. Control

Controller

: 3rd gen low proportional gain,
microcomputer PID controlled with LCD display


Range

: 50 to 250°C


Display units

: Fahrenheit or Celsius


Accuracy

: +/- 1°C Uniformity: +/- 6% of setpoint


Dwelling timer range

: 1 to 9999 minutes


Warm-up time to 38°C

: 10 minutes

Controller

: 3rd gen low proportional gain,
microcomputer PID controlled with LCD display


Range

: 50 to 250°C


Display units

: Fahrenheit or Celsius Accuracy: +/- 1°C


Uniformity

: +/- 6% of setpoint


Dwelling timer range

: 1 to 9999 minutes


Warm-up time to 38°C

: 10 minutes

Controller

: 3rd gen low proportional gain,
microcomputer PID controlled with LCD display


Range

: 50 to 250°C


Display units

: Fahrenheit or Celsius


Accuracy

: +/- 0.5°C


Uniformity

: +/- 5% of setpoint


Dwelling timer range

: 1 to 9999 minutes


Warm-up time to 38°C

: 15 minutes


Warm-up time to 250°C

: 1 hours 30 minutes

Controller

: 3rd gen low proportional gain,
microcomputer PID controlled with LCD display


Range

: ambient to 250°C


D

i

splay units

: Fahrenheit or Celsius Accuracy: +/- 1°C


Uniformity

: +/- 5% of setpoint


Dwelling timer range

: 1 to 9999 minutes
Vacuum

Ultimate vacuum leve

l: better than 500 microns / 0.066 kPa
(may vary based on your altitude)


Mechanical gauge range

: 0 to 760 mm mercury


Vacuum port

: KF25 flange x 1


Vent port

: 3/8" hose barb


Ultimate vacuum level

: better than 500 microns / 0.066 kPa
(may vary based on your altitude)


Mechanical gauge range

: 0 to 760mm mercury


Vacuum port

: KF25 flange x 1


Vent port

: 3/8" hose barb

Ultimate vacuum leve

l: better than 500 microns,/ 0.066 kPa
(may vary based on your altitude)


Mechanical gauge range

: 0 to 30 inch mercury


Vacuum port

: KF25 flange x 1


Vent port

: 3/8" hose barb x 1

Ultimate vacuum level

: better than 500 microns / 0.066 kPa,
(may vary based on your altitude)


Mechanical vacuum gauge range

: 0 to 30 inch mercury


Mechanical vacuum gauge type

: oil-filled


Vacuum port

: KF25 flange x 1


Vent port

: 5/8" hose barb x 1
Weight

Unit

: 40 kgs,

shipping

: 68 kgs

Unit

: 65 kg,

shipping

: 90 kg

Unit

: 185 kg,

shipping

: 285 kg

Unit

: 322 kg,

shipping

: 426 kg
Dimensions

Unit

: 590x 440 x 480mm,


With handle and vacuum port

: 590 x 510 x 480mm


Shipping

: 710 x 610 x 610mm

Unit

: 710 x 510 x 550mm


With handle and vacuum port

: 710 x 580 x 550mm


Shipping

: 810 x 670 x 710mm

Unit

: 890 x 790 x 970mm


Shipping

: 970 x 890 x 1090mm

Unit

: 840 x 940 x 1320 mm


Shipping

: 1090 x 1020 x 1520 mm
Shelves

Included with oven purchase

: 4 aluminum slide-in shelves


Style

: flat with front downward lip


Shelf size

: 290 x 290mm


Total area

: 3290mm x 100mm = 335,000mm2 (0.34m2)


Distance between shelves

: 50mm

Included with oven purchase

: 5 aluminum slide-in shelves


Style

: flat with front downward lip


Shelf size

: 410 x 360 mm


Total area

: 5790 x 130 = 735,000mm2 (0.74m2)


Distance between shelves

: 50 mm

Heated shelves

: 5 non-removalbe aluminum shelves, 560 x 590mm (WxD) each


Optional stackable aluminum shelves

: 560 x 590 x 60mm (WxDxH)


Total area without stackable shelves

: 13000 x 130 = 1,650,000 mm2 (1.65 m2),


Total area with 5 stackable shelves

: 13000 x 250 = 3,300,000 mm2 (3.3 m2)


Distance between shelves (without stackable shelves)

: 110 mm


Distance between shelves (with 5 stackable shelves)

: 60 mm

Heated shelves:

6 non-removalbe aluminum shelves, 640 x 740 mm (WxD) each


Optional stackable aluminum shelves

: 640 x 740 x 60 inches (WxDxH)


Distance between shelves (without stackable shelves)

: 130 inches


Distance between shelves (with 6 stackable shelves)

: 60 inches


Total area without stackable shelves

: 731 x 6 = 30 sq ft or 2.8 sq meters
T

otal area with 6 stackable shelves

: 731 x 12 = 60 sq ft or 5.6 sq meters
Door Gasket
Silicone
Window
12mm tempered safety glass
12 mm tempered safety glass
20 mm tempered safety glass
12 mm tempered safety glass
Safety
Built-in circuit breaker, overheat protector
CE compliance
Yes
AccuTemp 26L Vacuum Drying Oven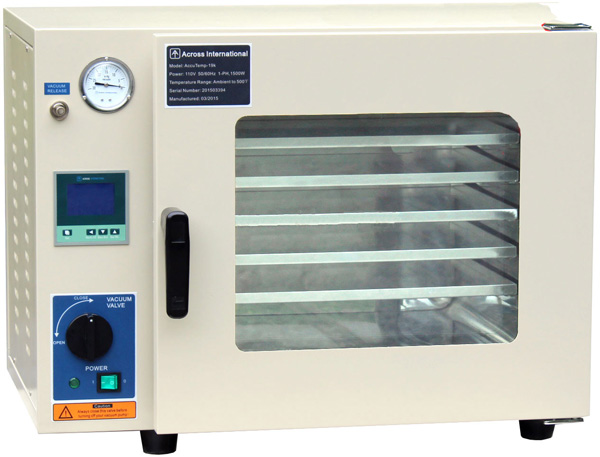 AccuTemp 54L Vacuum Drying Oven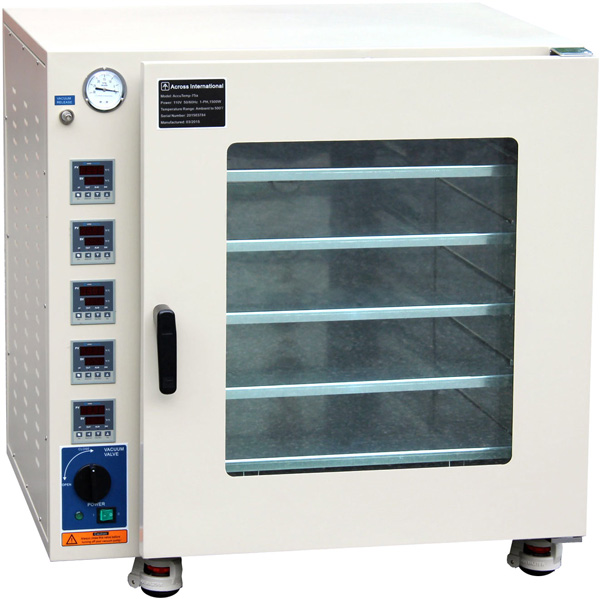 AccuTemp 210L Vacuum Drying Oven
AccuTemp 450L Vacuum Drying Oven