-Reliable and accurate temperature control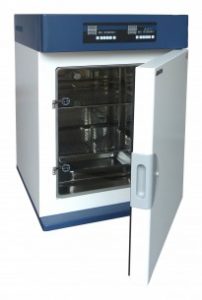 -Stainless steel humidity tray
-Removable shelves and shelf frame for easy cleaning
-Inner glass door
-Infra-Red CO2 Sensor by digital signal processing
-PID microprocessor controller
-Over temperature safety
-Rounded chamber corners
Model
LCO-265AI
Internal Dimensions (WxDxH mm)
495x515x600
External Dimensions (WxDxH mm)
660x645x1010
Capacity (litres)
150
Temperature Range
Ambient +8°C to 60°C
Temperature Uniformity
±1.0°C at 37°C
Material
Stainless steel interior with powder coated steel exterior
CO2 Range
0 to 20%
CO2 Uniformity
±0.1% at 5%
CO2 Sensor
Digital signal NDIR sensor
CO2

Recovery Rate

5 minutes recovery to 5%
Air Circulation
Natural convection
Shelving
2
Weight (kg)
90
Extraction gas fitting on the rear of the cabinet to allow for gas sampling / calibration
Additional stainless steel shelves available
This light weight, air jacketed CO2 incubator is suitable for floor or bench mounting. It features a PID microprocessor controller which provides precise temperature control from ambient up to +60 degrees. This controller has timer, temperature compensation, auto zero calibration and auto tuning functions.
The CO2 is also controlled via a PID microprocessor, with an infra-red type CO2 sensor to ensure the CO2 range is accurately measured and controlled.
The inner liner of the chamber is welded and polished stainless steel with rounded corners for easy cleaning. Two adjustable perforated shelves are supplied standard. These shelves sit on a rack which can be completely removed to allow for sterilizing. A stainless steel water tray is also provided for humidification. An inner glass doors helps to prevent the loss of the conditions inside the chamber while the contents are being viewed. This model features over temperature and over current protection devices to ensure user safety.